CeaseFire  is the subject of the powerful documentary "The Interrupters," which is the first film in our film series LOCAL FEATURE.  CeaseFire is an anti-violence program and initiative of the Chicago Project for Violence Prevention aimed at reducing street violence by using outreach workers to interrupt potentially violent situations.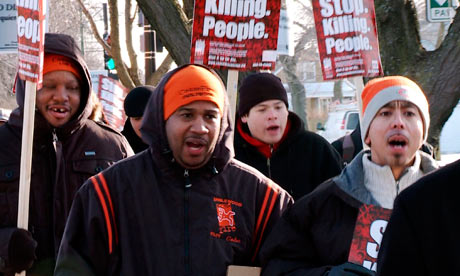 Check out this post from their blog:
June 28th, 2012
Many U.S. Children Live in "Combat Zones"
Many U.S. children today essentially live in "combat zones," according to Dr. Howard Spivak, Director of the U.S. Centers for Disease Control and Prevention's Division of Violence Prevention. Dr. Spivak spoke at a Congressional briefing sponsored by the Congressional Tri-Caucus and the Prevention Institute's Urban Networks to Increase Thriving Youth (UNITY). His research findings showed a higher prevalence of post-traumatic stress disorder (PTSD) among children living in high-crime urban communities than in American soldiers deployed in Afghanistan and Iraq.
Other research about youths and violence was presented at the briefing. A 2009 survey found that 60 percent of children were exposed to violence within the previous year. This is especially troubling because exposure to violence in childhood is associated with poor mental health and physical health outcomes. Physical health issues include chronic illnesses like heart disease, lung disease, and diabetes. The trauma associated with exposure to violence can also change how the brain and chromosomes develop and can shorter life expectancy by 7-10 years.Homicide is the second leading cause of death for 10-24 year olds. In many cities, it is the number one cause of death for this age group.
These findings emphasize the role of public health in violence prevention. Defining violence as a public health epidemic changes the approach to violence prevention. Instead of only punishing violence, efforts are moving towards a focus on reducing risk and changing social and behavioral norms. By changing norms, violence prevention efforts can create sustainable changes in urban communities so that fewer children have to deal with the consequences of growing up amid violence.
More recently, a US Conference of Mayors forum considered solutions to the epidemic of violence. Mayor Landrieu joined Gary Slutkin, M.D., founder and director of CeaseFire, and Mayors Michael Nutter (Philadelphia), Stephanie Rawlings-Blake (Baltimore), and Ashley Swearengin (Fresno) on a panel to discuss the CeaseFire model's effective public health approach to stopping shootings and killings. Additionally, Jane Lowe, Ph.D., iterated the Robert Wood Johnson Foundation's longstanding support of the effort to spread the CeaseFire model to more cities, and Jennifer Whitehill, Ph.D., faculty affiliate at the Johns Hopkins University Center for the Prevention of Youth Violence, presented on the promising evaluation from Safe Streets, the Baltimore CeaseFire replication site, released in January 2012.
FURTHER READING:
# # #
Our film series LOCAL FEATURE highlights the innovative stories and talented filmmakers of Chicago. Filmmakers, producers and actors who participate in this event will engage with the Catalyst Ranch audience, sharing their creative process and recounting examples of key takeaways or teachings from the film.  During the networking portion of the event, filmmakers are on hand to interact with the audience, answer questions and present merchandise. 
To reserve a seat for our August 24th screening of "The Interrupters" click here.